---
Pathological consumption has become so normalised we scarcely notice it
By George Monbiot, published in the Guardian 11th December 2012
There's nothing they need, nothing they don't own already, nothing they even want. So you buy them a solar-powered waving queen; a belly button brush; a silver-plated ice cream tub holder; a "hilarious" inflatable zimmer frame; a confection of plastic and electronics called Terry the Swearing Turtle; or – and somehow I find this significant – a Scratch Off World wall map.
They seem amusing on the first day of Christmas, daft on the second, embarrassing on the third. By the twelfth they're in landfill. For thirty seconds of dubious entertainment, or a hedonic stimulus that lasts no longer than a nicotine hit, we commission the use of materials whose impacts will ramify for generations.
Researching her film The Story of Stuff, Annie Leonard discovered that of the materials flowing through the consumer economy, only 1% remain in use six months after sale(1). Even the goods we might have expected to hold onto are soon condemned to destruction through either planned obsolescence (breaking quickly) or perceived obsolesence (becoming unfashionable).
But many of the products we buy, especially for Christmas, cannot become obsolescent. The term implies a loss of utility, but they had no utility in the first place. An electronic drum-machine t-shirt; a Darth Vader talking piggy bank; an ear-shaped i-phone case; an individual beer can chiller; an electronic wine breather; a sonic screwdriver remote control; bacon toothpaste; a dancing dog: no one is expected to use them, or even look at them, after Christmas Day. They are designed to elicit thanks, perhaps a snigger or two, and then be thrown away.
The fatuity of the products is matched by the profundity of the impacts. Rare materials, complex electronics, the energy needed for manufacture and transport are extracted and refined and combined into compounds of utter pointlessness. When you take account of the fossil fuels whose use we commission in other countries, manufacturing and consumption are responsible for more than half of our carbon dioxide production(2). We are screwing the planet to make solar-powered bath thermometers and desktop crazy golfers.
People in eastern Congo are massacred to facilitate smart phone upgrades of ever diminishing marginal utility(3). Forests are felled to make "personalised heart-shaped wooden cheese board sets". Rivers are poisoned to manufacture talking fish. This is pathological consumption: a world-consuming epidemic of collective madness, rendered so normal by advertising and the media that we scarcely notice what has happened to us.
In 2007, the journalist Adam Welz records, 13 rhinos were killed by poachers in South Africa. This year, so far, 585 have been shot(4). No one is entirely sure why. But one answer is that very rich people in Vietnam are now sprinkling ground rhino horn on their food or snorting it like cocaine to display their wealth. It's grotesque, but it scarcely differs from what almost everyone in industrialised nations is doing: trashing the living world through pointless consumption.
This boom has not happened by accident. Our lives have been corralled and shaped in order to encourage it. World trade rules force countries to participate in the festival of junk. Governments cut taxes, deregulate business, manipulate interest rates to stimulate spending. But seldom do the engineers of these policies stop and ask "spending on what?". When every conceivable want and need has been met (among those who have disposable money), growth depends on selling the utterly useless. The solemnity of the state, its might and majesty, are harnessed to the task of delivering Terry the Swearing Turtle to our doors.
Grown men and women devote their lives to manufacturing and marketing this rubbish, and dissing the idea of living without it. "I always knit my gifts", says a woman in a television ad for an electronics outlet. "Well you shouldn't," replies the narrator(5). An advertisement for Google's latest tablet shows a father and son camping in the woods. Their enjoyment depends on the Nexus 7's special features(6). The best things in life are free, but we've found a way of selling them to you.
The growth of inequality that has accompanied the consumer boom ensures that the rising economic tide no longer lifts all boats. In the US in 2010 a remarkable 93% of the growth in incomes accrued to the top 1% of the population(7). The old excuse, that we must trash the planet to help the poor, simply does not wash. For a few decades of extra enrichment for those who already possess more money than they know how to spend, the prospects of everyone else who will live on this earth are diminished.
So effectively have governments, the media and advertisers associated consumption with prosperity and happiness that to say these things is to expose yourself to opprobrium and ridicule. Witness last week's Moral Maze programme, in which most of the panel lined up to decry the idea of consuming less, and to associate it, somehow, with authoritarianism(8). When the world goes mad, those who resist are denounced as lunatics.
Bake them a cake, write them a poem, give them a kiss, tell them a joke, but for god's sake stop trashing the planet to tell someone you care. All it shows is that you don't.
www.monbiot.com
Flooding rated as worst climate change threat facing UK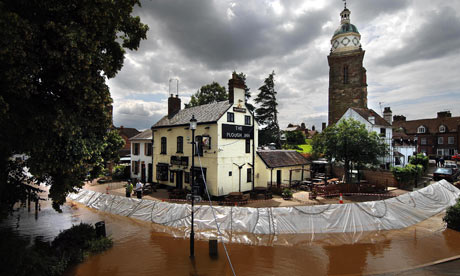 Flooding is the greatest threat to the UK posed by climate change, with up to 3.6 million people at risk by the middle of the century, according to a report published on Thursday by the environment department.
The first comprehensive climate change risk assessment for the UK identifies hundreds of ways rising global temperatures will have an impact if no action is taken. They include the financial damage caused by flooding, which would increase to £2bn-£10bn a year by 2080, more deaths in heatwaves, and large-scale water shortages by mid-century.
Unusually for such documents, it also highlighted ways in which the country could benefit from milder winters and drier summers, such as fewer cold-related deaths, better wheat crops and a more attractive climate for tourists.
Lord John Krebs, chairman of the adaptation committee of the independent advisory group Committee on Climate Change, said that without planning and investment to deal with the threats the UK would "sleepwalk into disaster". The benefits of climate change should also not be taken as reason to stop worrying about it, even with policies to reduce the threats, said Krebs: "Whether it will result in a net benefit we simply can't tell."
Scientists and other experts, led by Defra, identified 700 impacts of climate change in the UK, including the possibility of refugees arriving from wars over dwindling water and food.
High-impact events expected by mid-century included decreased forestation caused by red band needle blight, shortages in public water supply (especially in the north, Midlands and south of England), and worse water quality.
The assessors selected the 100 most pressing threats and opportunities and rated these according to their impact, the confidence of the modellers, and how soon the threats might occur. All the report's forecasts assume no governmental action to reduce or remove the threats.
The four most immediate "high consequence" risks all concerned flooding, with the expectation that in 10 years or so there will be increased flood damage to homes, with knock-on effects on insurance premiums and mental health.
Between 1.7 million and 3.6 million people are expected to be at risk of flooding by 2050, without investment to lessen the threat.
Other issues highlighted by the report include changes in wildlife migration, alterations in species communities as plants and animals fail to move fast enough to thrive, sewer overflows polluting the coast, changes in the soil, erosion from heavier rains, loss of staff working-time from heat stress, changes in fish stocks, and wildfires in drier summers.
Julian Hunt, emeritus professor of climate modelling, at University College London, said the report's finding that there would be longer periods of "static weather" and cloud cover, could threaten solar and wind energyfrom solar and wind sourcesenergy.
"This leads to dangerous urban heat island temperatures and droughts. But it also indicates the danger of lengthy, very low, wind conditions, or cloudy conditions – so low-carbon energy alternatives to wind and solar are essential," said Hunt.
Peter Mallaburn, reader in climate policy at De Montfort University, said the need to save energy was in conflict with government policies not pushing for higher energy efficiency standards for commercial buildings.
"This report says, for the first time, that not only are our homes and offices leaky, but that they will start to overheat in a warmer world," said Mallaburn. "We need a coherent strategy to sort out this mess. Let's hope that this report acts as a wake-up call."